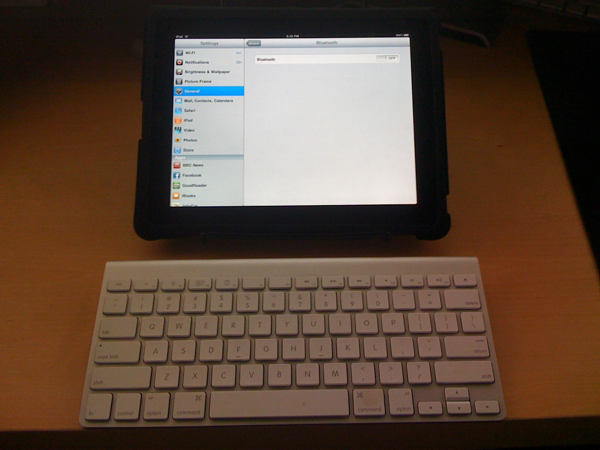 I figured out something that was a bit unintuitive. I have an Apple Wireless Bluetooth keyboard paired with a Mac. I wanted to see if it works on my iPad. I went to Bluetooth->Disconnect on the Mac and the keyboard showed up in the iPad Bluetooth discovery screen but it wouldn't pair.
I just happened to find a method to get this working:
Select disconnect on the Mac.
Turn off bluetooth completely on the Mac.
Hold down the power button on the keyboard to turn it off.
Press the power button once on the keyboard to turn it on.
The keyboard will show up in the iPad bluetooth list as before but now when you click it, the keyboard light will start flashing as it pairs.
The iPad will tell you to type a code and enter.
Good to go!</p>

It works for text areas in the browser and email windows. The on-screen keyboard doesn't appear. It's way faster to enter a blog post like this (hehe). It doesn't seem to work for navigating menus (with the arrow keys or anything). Think of it as a replacement for the on screen keyboard.
Also, be aware that you do have to unpair with the computer. Pairing means 1-to-1. Not 1-to-many. This is how bluetooth (even on PC) works unfortunately. If you want to broadcast keyboard strokes out to many computers you'll have to use something like VNC. Unfortunately there isn't a VNC server that I know of for the iPad yet (if ever). The iPhone versions of VNC require you to jailbreak your phone which can be a pain if you like "quick and easy". I rarely use my bluetooth keyboard on my media center so I didn't buy a second one. Your mileage may vary.

Hope this helps someone! Post a comment if it did.