Sam Stephenson has a pretty looking bash prompt screenshotted in his rbenv project's README. All you have to do is:
Set your Terminal theme to Basic. Make sure to re-set any preferences you might have (like no audible bell etc).
Set your Terminal font to 13pt Inconsolata. This isn't the exact font he uses but it's as close as I could find.
Set your ANSI Color for Normal White(7) to Tin (Crayons tab in color picker)
Put this bash code from this gist at the end of your .profile file.
Install rbenv so you don't get the errors I got below because I'm still on RVM. :)</p>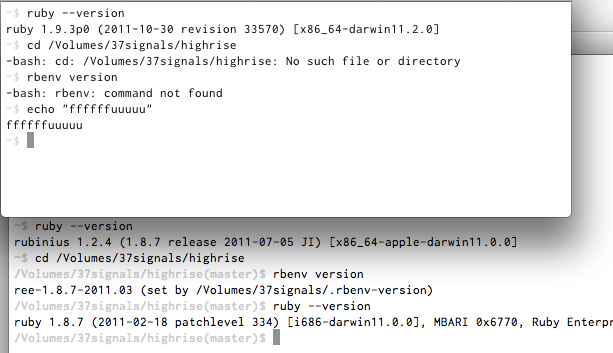 I covet, I steal.
Even though I don't show it there, the bash script will do the git repo status magic for you on OSX. You need to brew install git and have the shell completion scripts in /usr/local (homebrew will do this).